Dataform Media focuses on individualisation with Europe's first Ricoh Pro VC60000 with extended gamut ink
Ricoh Europe, London, 30 July 2019 – Austrian print service provider Dataform Media has chosen to drive individualisation, runs of one, and win new business, with Europe's first order of a Ricoh Pro VC60000 continuous feed press with extended gamut ink.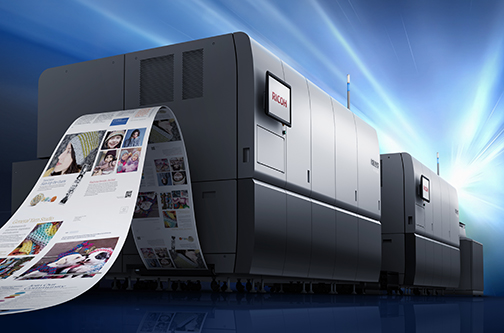 Dataform Media, part of Dataform, was founded in 1972. It produces forms and mail products from simple letters to complex applications including documents for banks and insurance companies and tickets with security printing. It chose the Pro VC60000 that features new Ricoh ink technology designed to print directly on common wood-free offset papers, matt-coated and coated printing papers. It aims to use it to print educational books among other applications.
The flexible and economical press delivers high colour stability and an improved colour gamut with more vivid colours and a richer black. This combination increases the different types of applications that can be supported. It also has a faster printing speed up to 150 m/min, enabling higher production volumes (including offset to digital page migration) and decreased time to market for promotions.
Stefan Achter, Managing Director of Dataform Media, comments: "We offer optimal products with all-round optimal service. Our investment in the Ricoh Pro VC60000 extended gamut press will support this. We look forward to it helping us further enhance how we support our clients with exciting new capabilities including individualisation and runs of one."
"We are delighted that Dataform Media has identified the powerful impact our newly developed inks have on the smooth and fast production of high quality digital print," says Eef de Ridder, Vice President, Commercial Printing Group, Ricoh Europe. "As well as enhancing its capabilities it can also seek new business opportunities confident in its ability to deliver consistently reliable fast turnaround results."
Installation of Dataform Media's new Pro VC60000 press will start next month (August).
For more information please visit www.ricoh-europe.com.