CFI TECHNOLOGIES orders second Ricoh Pro™ VC60000 line
Ricoh Europe, London, 17 June 2016 - Just months after becoming the first operation in France to choose Ricoh's pioneeringRicoh Pro™ VC60000 continuous feed inkjet technology La Galiote Prenant Group has ordered a second line. The deal was celebrated on Ricoh's drupa 2016 stand in Hall 8a.
The E100m turnover, 750 employee strong La Galiote Prenent Group comprises six companies including CFI TECHNOLOGIES. It is a leader in web offset production with more than 50 years' experience and the fastest web press in the Paris region at 70,000rph.
The new Pro VC60000 line will join the first at digital division CFI Technologies. The E15m turnover, 105 employee-strong direct mail specialist has 17 direct mail production lines and also offers data management, web to print and book production.
CFI TECHNOLOGIES's existing broad digital press base also includes both inkjet and sheetfed devices. It works with clients spanning a wide range of sectors from banks and insurance, NGOs, and real estate to telecommunications. Products include prestigious brochures and catalogues for brands such as La Redoute and Toyota.
"We wanted to integrate a digital solution that supports large volumes, a solution that would rival offset printing image quality", said Jérôme Binet, Chairman of CFI Technologies. "We were looking for a digital press that would increase our digital printing volume by transferring production from offset and laser towards this type of technology."
"What caught our attention about the Ricoh Pro VC60000 compared to other inkjet production systems market was the image quality compared to the printing cost," added Gilles Derouen, Development Director. "It has given us the flexibility in terms of media for printing the covers of magazines, books and a variety of other applications to further increase the transition to digital production."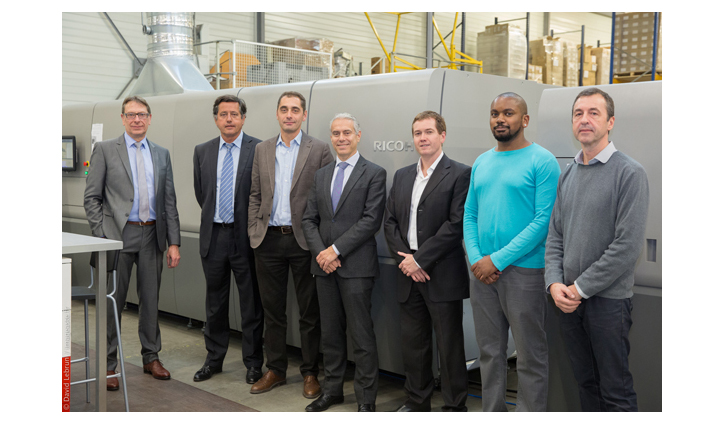 Benoit Chatelard, Vice President, Production Printing, Ricoh Europe, says: "We are delighted that CFI TECHNOLOGIES, in only a few months, has seen such a return on investment for its first Pro VC60000 that it has decided to invest in a second line. Its ability to handle offset coated stock and achieve high quality at faster speed is helping the business deliver enhanced services to its broad client base."

The Pro VC60000 press is capable of producing nearly 100,000 A4 images per hour. It reduces make ready time and speeds up turnaround, maximises operational efficiency and allows greater control of costs. It provides a function-rich total solution for clients new to digital colour and for those who want to consolidate and streamline their operations to grow their businesses. It will enable commercial production printers, direct mailers and digital book printers to move a growing volume of graphic arts applications to high quality digital devices.