CFH Docmail gives Ricoh Pro™ C9110 seal of approval at Drupa 2016
Ricoh Europe, London, 10 June 2016 – UK transactional print specialist CFH Docmail has chosen a Ricoh Pro™ C9110 heavy duty digital colour sheetfed press to extend its digital print capabilities. The deal was signed on Ricoh's drupa 2016 stand in Hall 8a. 

The Radstock, South West England, operation also has production sites in Slough and Scotland as well as postal hubs located around the country. It services 26,000 clients, mostly small businesses from almost every business arena. Specialist sectors include medical and health, plus financial, and local government. It is also producing 16% of all EU referendum ballot papers for the British electorate.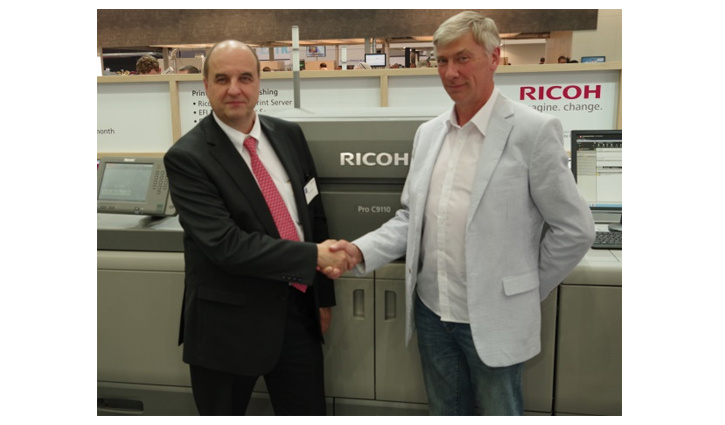 It offers everything from vouchers, coupons, gift cards, postcards and letters to invoices, financial statements and personalised greeting cards. These can be sent all over the world.  

"We have a huge client base and it has grown significantly thanks to our reputation for excellent service," states David Broadway, CFH Docmail Managing Director.

CFH Docmail, which already runs a Ricoh Pro C5100 digital colour cut sheet printer, chose the Ricoh Pro C9110 press after a six month investigation of the solutions available on the market. States Broadway: "The Ricoh stood out because of its productivity gains as well as its print quality. We also liked its attractive environmental footprint that includes a lower cost of print thanks to its economical power consumption." 

The Ricoh Pro C9110 is equipped with a Ricoh TotalFlow print server and will be used to run IPDS, PDF and Postscript datastreams. 

Broadway adds: "Central to the deal is our long standing relationship with Ricoh. It goes back many years and is based on continued excellence in service and support." 
Benoit Chatelard, Vice President, Production Printing, Ricoh Europe, said: "CFH Docmail is another excellent example of a company that has grown its digital production capabilities following a long term relationship with Ricoh. We are delighted that CFH Docmail has chosen to continue its digital journey with Pro C9100 series press."

The Ricoh Pro C9100 series runs at speeds up to 130ppm. It supports uncoated, textured and coated media up to 400gsm, as well as duplexed long sheet printing up to 700mm and even speciality media, such as super-gloss, magnetic, transparent and synthetic. 

An enhanced version of Ricoh's Vertical Cavity Surface Emitting Laser technology provides image quality up to 1200 x 4800 dpi while high colour consistency is assured by Ricoh's automatic image feedback technology which provides continuous colour density calibration.

Maximum uptime is delivered via a liquid cooling system for continuous printing, enhanced ORUs (Operator Replaceable Units) and toner bottles, and media changes on the fly.