First Ricoh 3D printer designed to support high functional materials now available in Europe
Manufacturers to create multiple working parts simultaneously and boost prototyping with high-end model

Ricoh Europe, London, 17 May 2016 – Businesses across Europe can accelerate their manufacturing innovation programmes following the European launch of Ricoh's first branded high-end 3D printer. As announced by the technology specialist last year, availability was set for mid-2016 – but has been brought forward based on market interest.

The RICOH AM S5500P is a high quality product designed to help businesses meet their specific manufacturing needs and offers PA1 and PP2 materials support – which are of strategic importance to manufacturers, particularly those in the automotive industry. 

The Ricoh AM S5500P is available now in the UK, Germany, Italy, Spain, Belgium, Luxembourg and the Netherlands.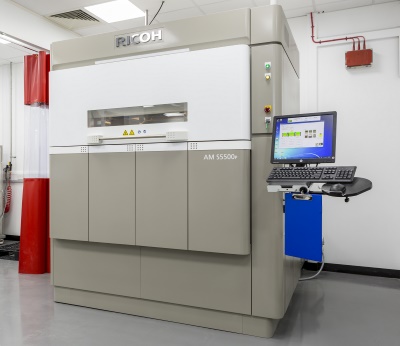 Produce multiple parts simultaneously 
The generous build size enables the manufacture of large components in one build and the production of multiple parts in a single run. The smart re-coater feeds new powder from both sides of the feed cartridge in order to provide consistently denser and high quality parts. The system contains numerous support mechanisms which contributes to its high reliability, whilst the printer comes with Ricoh's own pre-configured settings for use with Ricoh approved materials. Via the systems software, the user can develop their own parameters to suit the application with access to all settings.

The RICOH AM S5500P employs an additive manufacturing method known as SLS®3.It  supports a range of high functional materials, automobile manufacturers, for example, can create multiple functional parts simultaneously in order to run a test drive.

Peter Williams, Executive Vice President, Ricoh Europe, said: "The availability of the RICOH AM S5500P and relevant end-to-end services means that European businesses now have a single point of contact for everything related to additive manufacturing. This makes it easier for them to understand and deploy an additive manufacturing solution that can help improve their efficiency, productivity and entry to new business areas. Given the relative fragmentation of the market this is a significant development, as the printing of working parts on demand and the creation of prototypes enables businesses to meet their evolving manufacturing innovation needs."

RICOH Rapid Fab facility
As part of its additive manufacturing business, centered on 3D printers, Ricoh Europe recently established its first RICOH Rapid Fab facility on the continent. Located in Telford, UK, the facility has been created to enable customers to benefit from Ricoh's expertise in areas such as consultancy, training, design, manufacturing, post process finishing and measurement & inspection services. The facility also hosts demonstrations, giving customers an early look at the latest additive manufacturing innovations from Ricoh. Customers can use RICOH Rapid Fab as a showroom to experience 3D printing products, and also take advantage of the 3D printer output service using their own data. The capabilities of RICOH Rapid Fab relieves customers of often time-consuming, costly tasks, allowing them to focus on core business activities.

For more information visit www.ricoh-europe.com/products/3D-printers

1 PA (Polyamide): Nylon. Polymer powder that offers strength and flexibility.
2 PP (Polypropylene): Polymer powder that is light, incredibly durable, and highly flexible.
3 SLS® (Selective Laser Sintering). SLS is a registered trademark of 3D Systems, Inc.