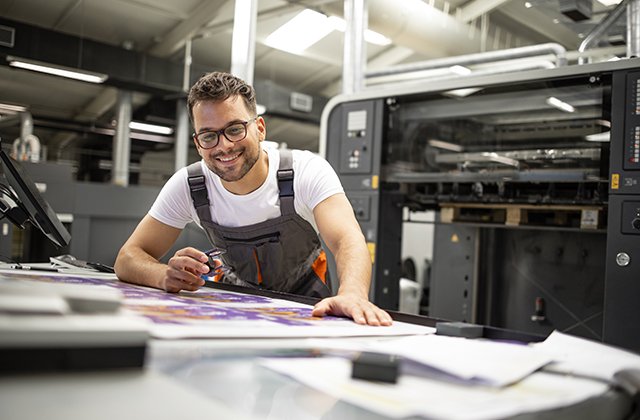 Long-term partnership and unparalleled expertise
Commercial Printing
As the need for flexibility and versatility continues to drive commercial printing, along with the growth of cross-media marketing; digital production printing is moving centre stage. Linked to this is the ability to provide a wider range of print services to a more diverse client base. To stay profitable and grow, your business must be agile and market its services in a way that responds to evolving customer needs while creating business efficiencies that enable you to meet ever-shortening deadlines. At the same time, you need room for innovation – standing still is not an option.
At Ricoh, we're committed to helping commercial printers achieve the resilience needed to meet the long-term needs of all digital production printing operators. Specialising in automation, integration and workflow efficiency, we offer class-leading hardware, software solutions, technical services and digital printing expertise that can elevate your business to the next level. Serving over 7,000 customers across EMEA (Europe, the Middle East and Africa), we will be with you for the long term, helping your business stay healthy today, tomorrow and well into the future.
Solutions & Services
Access class-leading expertise, solutions and support in digital printing to reach new levels of resilience and agility.
Sheetfed

High Speed Inkjet

Software & Workflow Solutions

Wide Format and Large Format Printing

Professional and Technical Services
Let's connect
Talk to a Ricoh expert
Get in touch with one of our consultants and find out how we can help your business.
Contact us