Finance Director - Shaping Future Business
Plan strategically for future sustainability
With current trends continuing to challenge organisations all over the world, the role of the finance function has significantly changed. Finance has predominantly focused on reporting and balancing the books, but the finance department of the future will be a data-driven decision-centre.
---
Digitise business processes and workflows
Reallocate resources, reduce error and accelerate the processing of information. Our secure end-to-end automated solutions can free the finance department from day-to-day F&A processes so that they can focus on higher value tasks and drive business success.
Digital authorisation / eSignature

Manage entire digital workflows and speed up business processes with secure digital signature solutions.



E-Invoicing




Adopt E-Invoicing to speed up payments and conform to local compliance. Remove barriers to entry to new markets and grow.



Intelligent Workflow Automation

Automate key processes through the cloud to reduce costs & improve customer experience.




Ricoh Smart Integration Control+

Easy to use workflow apps that enable important information to be instantly accessible.



---
Automating Accounts Payable
Digitising Accounts Payable can have a significant impact on both the finance team and the wider organisation. 
Read the Ricoh report and learn how your business could raise productivity, reduce costs, improve supplier relationships and even enhance your employees' working lives.


---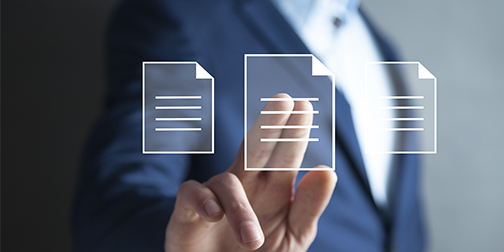 Online Archiving
Digitise your documents for compliance and instant retreival.
Ricoh's managed scanning and archiving service provides a full end-to-end electronic document and records management solution. We can help you move your paper-based processes to digital workflows, so the documents you need are secure and easily accessible.
---
Fasttrack digital transformation for the finance department
Automating F&A processes via the cloud, can help maintain and enhance customer experience by ensuring they can pay, and be paid, faster.
We help our clients in their journey to The Cloud, migrating IT services so that processes are accessible to employees and stakeholders from anywhere and not disrupted by a dispersed workforce, holidays, or sickness.
---
Get in touch
Find out how we can support your Finance department today!