CIO - Digital Transformation
Transforming infrastructure & processes
Digital transformation requires many solutions – from redesigning your IT infrastructure and facilitating 
secure remote working
to
 re-designing your work spaces.
Discover our solutions that 
 increase the adoption of digital processes
and help deliver value for the business now, and prepare it for future disruption.
---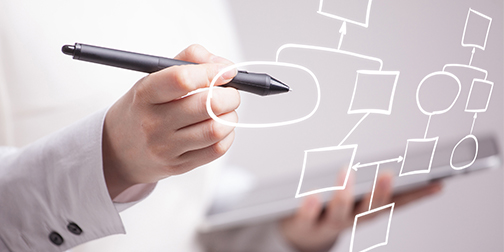 Intelligent Workflow Automation
With workflow automation CIO's can reduce the costs, risks and pressure on the IT department.
Implement paperless processes that reduce the risk of human error, support mobility and facilitate collaborative working.  Digitalise and automate critical business workflows for procurement, invoicing and HR and enable your workforce to work remotely.
---
Cloud Infrastructure
Align IT provisioning and cost structure with your business needs in a flexible and agile model. For many the obvious response is cloud, but there is no one-size-fits-all cloud infrastructure. Ricoh can provide cloud vendor agnostic services and develop tailored solutions that meet your needs and exceed expectations.
---
Enabling Digital Workplace Services
Accelerate your digital office transformation by empowering your business to work smarter through utilising innovative technology. 
Ricoh's extensive portfolio of workplace solutions, can help CIO's improve customer experience, employee efficiency and satisfaction.
Ricoh IT Services partnership with Vodafone underpins customer service excellence.

Ricoh implements innovative scanning solution to improve Caisse d'Epargne's document workflow and reduce admin time.

Ricoh supports Rabobank's centre of excellence to embed automation across the organisation.
IDC Whitepaper - Data Analytics

This IDC whitepaper explains how implementing an analytics platform, to support companywide initiatives, with data-driven decision making has become business critical. Once a company has implemented an analytics platform capable of enabling data-driven decision making across an organisation, benefits can be achieved in many areas. 

The Evolution of Robotic Process Automation (RPA)

RPA use has evolved and matured, it's become more than just a cost mitigation strategy; it is now a key element within broader digital transformations. This whitepaper explores the evolution and future of RPA, and reveals the secrets of successful deployment.
---
Get in touch
Learn how we can help you to accelerate digital transformation within your business and support new styles of working.