Our Service Delivery Model
---
Our five stage adaptive process provides the framework for how we work together. Our delivery model has been designed to help you get the most out of our engagement. It is structured to ensure that we consider your organisation as a whole, rather than simply your immediate requirements, so that the solutions we suggest work in harmony with the rest of your business.
---
Understand

Ricoh will work closely with your internal team to gain a solid understanding of your business and technical infrastructure, along with your goals. Together we'll analyse your strategic plans, financial objectives and critical information processes.

Improve

We'll then develop an actionable plan that focuses on enhancing the processes and infrastructure that are needed to achieve your overall objectives. At this stage we also identify realistic metrics and the key performance indicators that we'll use to measure success.

Transform

Now it's time to deploy your service. We work in partnership with your team to implement the chosen solution and will assist with strategies to help your employees more easily adopt the changes. We'll also start to monitor how your employees are responding to the new processes and workflows.

Govern

At this point, we'll start to actively monitor the improvements we've implemented. We'll use management tools to measure the success of the new infrastructure or processes and will report back about performance against the metrics we defined earlier in the project.

Optimise

This phase is about continuous improvement. Businesses go through continuous changes, and new technologies emerge every day. Here we ensure that the solutions we've implemented remain fit for purpose as your organisation changes and grows.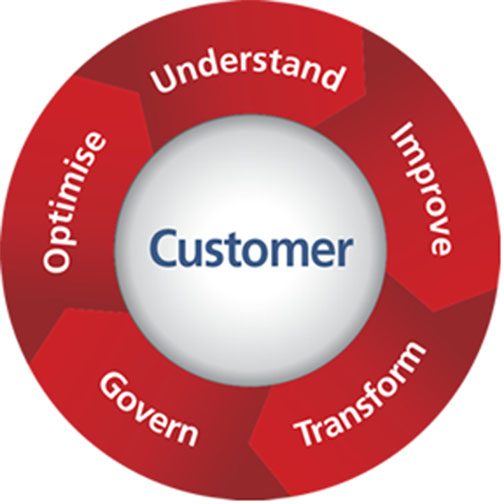 Throughout the process, we'll work closely with you to ensure that we understand your business, your trajectory and your goals. We will learn how your organisation works, collaborates and shares information, as well as how you work with your customers and business partners.

We will focus on getting to know your managers and employees, as the ongoing success of any programme lies with them. And we'll work closely with your teams to establish the tools and information that will benefit them best.

Our partnership approach means that we:

Gain an understanding of your business processes and how you work
Get to know your workforce so that we can understand their day-to-day information challenges
Ensure that the solutions we design and implement are tailored to meet both employee needs and business goals

Ricoh Project Managers can work as an extension of your staff to help successfully implement the recommended solutions. With a solid understanding of your business, they will apply best practice project management methodology to ensure that your programme delivers on its goals.

Our experienced project managers are here to:

Provide structure for project organisation and governance to ensure success and the timely handling of issues and risk
Provide a framework that improves efficiency and facilitates timely project completion
Utilise a common set of familiar project management tools so that delivery is consistent across your organisation
Track, measure and communicate progress on project milestones and deliverables




Ricoh's service management methodology is based on the ITIL (Information Technology Infrastructure Library) standard, which focuses on aligning IT services with business needs.
Once your solution is implemented, our Service Managers can assume day-to-day responsibility of your programme. They will work closely with your internal teams to govern, measure and optimise your solution to ensure that the focus remains on achieving your business goals.

Our service managers will:

Provide a single point of contact for country, regional or global reporting
Follow a central governance process, so that you and your stakeholders always know what to expect
Ensure that Service Level Agreements are adhered to at all times
---
The Ricoh Global Services team provides standardised end-to-end solutions for customers in countries and territories worldwide. With over 30,000 service delivery professionals in our employ, we're here to offer a consistent global service standard at a local level.