Ricoh positioned in the 2019 Gartner Magic Quadrant for Managed Workplace Services, Europe
Gartner evaluated 16 leading providers of innovative managed workplace services and positioned Ricoh in the 2019 Magic Quadrant for Managed Workplace Services, Europe.
We believe our positioning highlights Ricoh's strengths in providing a comprehensive set of products and services to accelerate change and transform the employee experience, delivered through investment in relevant skills and an enhanced partnership ecosystem.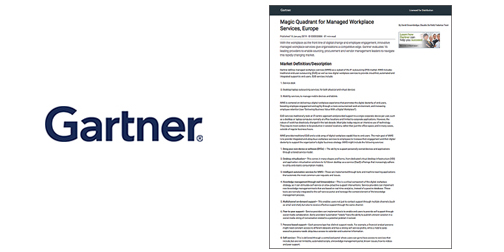 "Our position in the Magic Quadrant reflects our commitment to transforming workplace experiences, driven by the expertise of our 7000-strong team of Workplace IT experts worldwide. Our end-to-end solution delivers change for a broad range of organisations and user personas. We focus on helping customers with today's workplace challenges, including managing different ecosystems, adapting to changing workstyles and the explosion of devices and applications. We were delighted with the feedback we received from these customers as part of the evaluation process."

Alberto Mariani, Vice President, Office Services, Ricoh Europe.
Download your complimentary copy of the 2019 Gartner Magic Quadrant to explore Gartner's expert view on the market and learn what the report says about Ricoh.
Our Managed Workplace Service capability is supporting and enabling businesses across Europe to work smarter through the deployment of a modern workplace. Our own research shows that:


✔ Our customers praise Ricoh for our high quality of service, flexibility and our ability to understand and adapt to any customer requirements.
✔ Our customers also report high levels of satisfaction with our workplace analytics, contextualization of knowledge and walk-up support services.
✔ Our flexible approach enables us to serve businesses of all sizes.
✔ Our comprehensive offering now covers service desk, kiosks, field engineering, mobile device management, intelligent service automation, cloud collaboration, knowledge portals, VDI, DaaS and smart lockers.
Complete the form
*Mandatory fields