Dynamic Workplace Intelligence
RICOH Dynamic Workplace Intelligence encompasses Ricoh's full suite of office printing capabilities, designed to help businesses build the workplaces of tomorrow.
Dynamic Workplace Intelligence takes traditional office printing capabilities into new realms by connecting reliable print hardware with smart software, scalable technology and sophisticated applications, to make everyday workflows easier, faster and more secure.  
For years, Ricoh has helped organisations deliver outstanding print results and leverage the benefits of digitised work practices to drive efficiencies, productivity and competitive advantage.  Today, no matter what stage of digital transformation your business is at, Ricoh can take you further into your future with our unique combination of intelligent technology and cleverly configured software solutions and applications.  
Dynamic Workplace Intelligence is about connecting our capabilities; intelligently integrating Ricoh hardware, software, applications and technology to enable seamless workflows that meet your business needs – allowing your employees to focus their time on what they do best.
A smarter workplace means a more agile, capable and productive business.  With RICOH Dynamic Workplace Intelligence, you can set your team up for success.  
The Ricoh intelligent ecosystem
Scalable. Secure. Sustainable. Simple. Futureproof your workplace with RICOH Intelligent Devices.

This multi-faceted, always-on service and support platform means your device is more reliable than ever, delivering non-stop performance.

Connect your multifunction printer to external cloud services, enabling you to work smarter and increase productivity.
---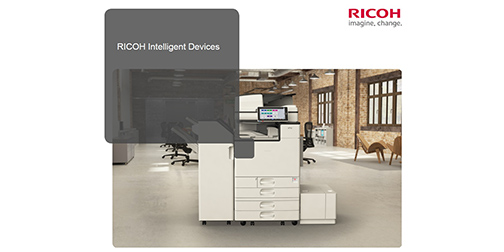 RICOH Intelligent Devices brochure
Discover how you can future-proof your workplace with RICOH Intelligent Devices equipped with Always Current Technology
---
RICOH Intelligent Support brochure
Learn more about how RICOH Intelligent Support works
---
Didn't find what you were looking for?
If you didn't find what you were looking for then contact Ricoh and we can help you.